In Memory
Joe Pasi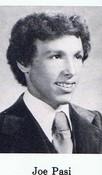 From Page 1 of the Altoona Mirror (10/15/84):
Blair County man run over by train
CRESSON - A Hollidaysburg man was killed by a Conrail freight train along the mainline tracks between Lilly and Cresson Sunday Morning (10/14/84).
Joseph A. Pasi Jr., 23, of Box 625, Hollidaysburg RD 1, was pronounced dead at scene at 6:03 a.m. of massive head injuries by Cambria County Coroner John Barron. (Obituary on Page B3.)
Cresson Township police said Pasi was wrapped in a blanket and lying next to track 3 with his right leg over one of the tracks when the train struck him.
Police said Pasi reportedly had left a friend's house at 5 a.m. and was walking from Lilly toward Cresson to Mt. Aloysius College, where he was a student.
Police are investigating whether Pasi slipped and fell or intentionally stopped to rest and fell asleep.