In Memory
Rodger Bagley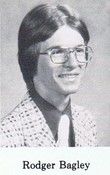 From the Altoona Mirror, 5/80:
RODGER LEE BAGLEY

20, of Box 542, Sunbrook, Duncansville RD 3, died at 10:48 p.m. Friday, May 23,
1980, in Mercy Hospital, from Injuries he received in an automobile accident
(Story on page 1). Mr. Bagley was employed by the F. L. Smithe Machine Co.,
Duncansville. He was born April 13, 1960, in Altoona, a son of Thomas A. and
Pearl (Helsel) Bagley. Surviving are his mother and stepfather, Mr. and Mrs. Ray
Weyant, and three brothers and a sister, Thomas Bagley of Duncansville RD 3,
Dennis Bagley and Douglas Weyant, of Duncansville and Diane Weyant of
Hollidaysburg. Mr. Bagley graduated from the Hollidaysburg Area Senior High
School in 1978. Friends will be received from 2 to 4 and 7 to 9 p.m. Tuesday at
the Donald E. Liebegott Funeral Home, Duncansville.