In Memory
George (Tom) Campbell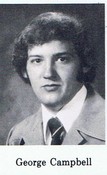 From the Altoona Mirror Obituaries, 5/22/82:
George Thomas Cambel, 21, of Box 306, Reservoir, Hollidaysburg RD 1, died at 1:47 a.m. today, May 22, 1982, in Mercy Hospital, from injuries received in a single-car accident on Route 36 in Chest Springs at 11:45 p.m. Friday.
Mr. Campbell was employed as a mechanic for J.C. Penney Co. He was born July 18, 1960, in Altoona, the son of Alvin and Helen (Gray) Campbell.
Surviving are his parents of Resivoir, two sisters: Mrs. Terry Davis of Loop Station and Mrs. Deborah Hurliman of Resivoir, and his grandmothers, Mrs. Laura Campbell of Resivoir and Mrs. Catherine Gray of Hollidaysburg.
Mr. Campbell attended Resivoir Bible Church and was a 1978 graduate of Hollidaysburg Area High School.
Friends will be received from 7 to 9 p.m. Sunday and 2 to 4 and 7 to 9 p.m. Monday at the Plank & Stitt Funeral Home, Hollidaysburg.