In Memory
Thomas Carles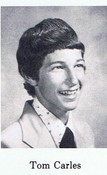 From the Altoona Mirror Obituaries (8/23/04):
Thomas E. "Coach" Carles, 44, Hollidaysburg, died unexpectedly Friday, Aug. 20, 2004, at his residence. He was born March 28, 1960, in Altoona, son of the late James and Hilda (Kroskey) Carles.
He worked as a dishwasher at the US Hotel. He was a 1978 graduate of the Hollidaysburg Area Senior High School. He was an avid Steelers and Pirates fan. He was a Life Member of Phoenix Volunteer Fire Company, Sons of the American Legion Post 516, and the Allegheny Club.
Mr. Carles was survived by four sisters: Jane and Mary Ann Seiler, both of Hollidaysburg, Patricia Robuck of Altoona, and Debbie Robison of Rockton: four brothers: John Chester of Collegeville, William of Coupon, Donald of Hollidaysburg, and Robert of Cristoval, Texas: and 11 nieces and nephews. He was preceeded in death by an infant sister, Jean Marie; and a brother, James "Buck" Richard.
Friends will be received from 2 to 4 and 7 to 9 p.m. Monday August 23, 2004 at Sorge Funeral Home, Hollidaysburg, where a firemen's memorial service will be held. A funeral Mass will be celebrated at 10 a.m. Tuesday at St Mary Catholic Church, Hollidaysburg by Father John A. Palko. Commital at new St Mary Cemetery. Memorials may be given to the Altoona Hospital Palliative Care Unit.