In Memory
Marian DeStefano (Schirf)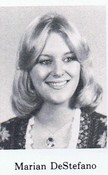 From the Altoona Mirror www.altoonamirror.com/page/content.detail/id/15327.html
July 24, 1960 - Sept. 11, 2007

Marian (DeStefano) Schirf, 47, 1511 13th St., Altoona, died unexpectedly Tuesday at home of a heart attack.

She was born in Fostoria, Ohio, daughter of Lois Ann (Hartman) Clowson.

Surviving are her mother of Altoona; a sister, Suzan Marlett, and niece, Katie Marlett, both of Altoona. She was preceded in death by a sister, Valerie DeStefano in August 2000; and her father, James P. DeStefano in August 2005.

She was a 1978 graduate of Hollidaysburg Area High School.

Marian enjoyed rescuing and taking care of animals, along with her beloved cats: Linus, Rudy and Tay-Tay.

Friends will be received at a memorial Mass to be held at 10:30 a.m. Monday, Sept. 17, 2007, at Our Lady of Mount Carmel Catholic Church. Committal at Grandview Cemetery. Arrangements are by Leslie E. Axe Funeral Home.