In Memory
Kandy Eger (Grove)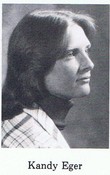 From the 10/31/98 Altoona Mirror Obituaries:
Ms. Kandy L. Grove, 38, Shamrock Trailer Court, Duncansville, died Thursday morning, October 29, 1998 at Conemaugh Memorial Medical Center, Johnstown, as a result of an automobile accident.
She was born June 9, 1960, in Altoona, the daughter of Frederick M. and Judith A. (Irvin) Eger. Ms. Grove was employed by Burger King, Duncansville. She was a 1978 graduate of Hollidaysburg Area Senior High School and enjoyed cooking and the outdoors.
Surviving are her mother of Duncansville; a son, Corey; a sister, Kara Brennaman of Duncansville; and three brothers: Raymond and Fred Jr., both of Duncansville, and Dale of Blue Knob. She was preceded in death by her father, who died July 10, 1998.
GROVE- Funeral services for Kandy L. Grove, Duncansville, will be held at 2 p.m. today at Sorge Funeral Home, Hollidaysburg, by Pastor William O. Gafkjen. Friends will be received from noon until time of services today in the Sorge Funeral Home, Hollidaysburg. She was preceded in death by a sister, Kathy Lee Payne, who died February 26, 1998. She also enjoyed her family and helping others. (This obituary is being reprinted due to several errors.)