In Memory
Brandon Fagan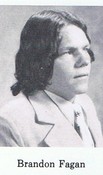 From the Altoona Mirror Obituaries (9/10/98):
Brandon W. "Moe" Fagan, 38, 538 Baynton Ave., Lakemont, died Monday, Sept. 7, 1998, of drowning at Raystown Lake, Entricken.
He was born July 30, 1960, in Altoona, the son of Robert M. and Nancy (Jones) Fagan. Mr. Fagan was formerly employed as a carpenter with Leonard S. Fiore Inc. He was a 1978 graduate of Hollidaysburg Area High School. Mr. Fagan enjoyed hunting and fishing.
Surviving are his wife, Darlene V., of Altoona; three daughters: Joleme, Brandalyn, and Reba, all of Barnesboro; his parents of Lakemont; and a sister, Barbara Brumbaugh of Martinsburg. Friends will be received from 2 to 4 and 7 to 9 p.m. today at E. Merrill Smith Funeral Home Inc., Broad Avenue.