In Memory
Tracey Jackson (Hillegas)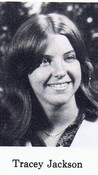 From the Altoona Mirror Obituaries (12/15/98):
Ms. Tracey G. Hillegas, 38, McKee, Hollidaysburg RR 1, died Sunday, Dec. 13, 1998, at her home, after remaining in a coma for 2-1/2 years, following an automobile accident.
She was born Sept. 21, 1960, in Altoona, the daughter of Donald D. Jackson and Gloria I. (Bowers) Jackson Hummel. Ms. Hillegas was a member of Carson Valley Church of the Brethren. She had been employed at Valley View Nursing Home. Mrs. Hillegas was a 1978 graduate of Hollidaysburg Area High School. She enjoyed horseback riding and reading.
Surviving are two daughters: Jaime T. Hersh of York and Tara L. Fogle of Roaring Spring; her mother, with whom she resided; her father of Hollidaysburg RR 1; two sisters: Cathy A.B. Anderson of Altoona and Robin L. Bender of Hollidaysburg RR 1; a stepsister, Debra Hummel of York; a brother, Joel D. of Hollidaysburg RR 1; and her grandparents: Gerald and Dennise Bowers of McKee, Hollidaysburg RR 1.
Friends will be received from 7 to 9 p.m. today at J. Gary Thompson Funeral Home, Roaring Spring.