In Memory
Wayne McCoy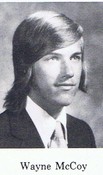 Obituary from the Altoona Miiror:
Wayne W. McCoy: June 30, 1959 to June 24, 2007
Wayne W. McCoy, 44, of Newry died unexpectedly Sunday Morning, June 24, 2007, at his residence. He was born in Altoona, son of John F., and Daisy L. (Campbell) McCoy. He was preceeded in death by his father, Johnny, April 27, 2007; and a son, Lucas W., October 24, 2001. He is survived by his mother, of Newry: two sisters: Linda A. Rentz and husband Fred, of Duncansville. and Diane Rittle and husband, David, of York; one niece; three nephews; close friend, Kirk Williams; and his former spouse Tina, mother of Lucas.
He was the proprietor of McCoys Tavern, Newry. He was an avid Pittsburgh Steelers fan. He played football for Bishop Guilfoyle and St. Patricks School, Newry. He played baseball at Hollidaysburg and Newry. He was a 1978 graduate of Hollidaysburg High School.
Friends will be received 2 to 4, and 6 to 8 p.m. today at Sorge Funeral Home, Hollidaysburg. A funeral Mass will be held at 10 a.m. Tuesday at St. Patrick's Catholic Church, Newry, by Monsignor Anthony B. Little. Commital at the church cemetery.